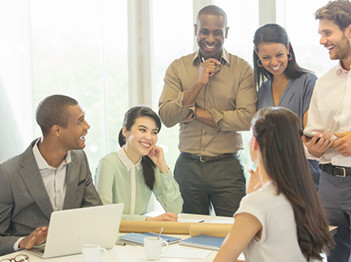 Students and Recent Grads
Discover the possibilities
If you bring leadership, optimism and passion to all that you do, you're in the right place! We offer rewarding opportunities to launch your career — including internships, full-time employment, and professional development programs.
Don't miss the opportunity to be considered for a meaningful and rewarding career with Lincoln. We will provide you every opportunity to reach your goals by giving you all of the tools you need to take charge of your career — and your life!
Find out when we'll be on your campus, locate a recruiting event near you, or search our open positions.
Are you an undergraduate looking to experience a world of opportunity where careers are launched and talent is discovered?
As an intern at Lincoln Financial, you will be part of a network of peers, giving you the opportunity to build relationships, engage in rewarding work assignments, and participate in formal development.
Program highlights
Ten-week summer program
Professional development activities
Exposure to high-level executives
One-on-one coaching and mentoring
Paid internships are available in many of our locations in multiple business areas: Finance, Risk Management, Information Technology, Operations, Customer Service, Human Resources, Marketing & Communications, Law & Compliance, Sales & Relationship Management
Program requirements
Rising juniors and/or seniors
Outstanding academic achievement(s)
GPA of 3.0 or above
Excellent communication and demonstrated leadership skills
View our brochure
Lincoln's direct placement opportunities are perfect for those who already know the career area and position they wish to pursue.
As a direct placement candidate, you will apply for a specific role and location within Lincoln Financial. As with all employees, you will have the opportunity to take charge of your development through Lincoln's career development offerings.
Lincoln's highly competitive Leadership Preparation Program (LPP) is designed to accelerate participants' professional development and prepare them for increasingly complex and challenging roles within the company.
This program is ideal for candidates interested in committing to a two-year program, which consists of assignments in one or more business areas and up to two geographic areas.
Program highlights
Two-year program commitment with a final goal of permanent placement
12-month rotating assignments or 24-month business unit tracks
Ongoing career coaching and mentoring from program champions
Virtual and on-site leadership development sessions
Enterprise-wide stretch assignments
Community and team building projects and activities
Opportunities across all locations
View our brochure
Lincoln's extremely competitive Actuarial Development Program (ADP) develops highly skilled business actuaries and leaders for a variety of roles within Lincoln Financial. The Actuarial Development Program promotes the development of technical, managerial, and leadership skills in addition to providing generous educational support in promoting rapid examination progress toward attaining a Fellowship in the Society of Actuaries (SOA).
Our program is ideal for candidates who are firmly committed to obtaining an SOA Fellowship. Students begin their careers in a series of two-year rotational assignments that span various business units, functions and locations.
Additionally, Lincoln Financial offers a summer actuarial internship program for college students to provide an opportunity to gain experience in an actuarial profession.
Program highlights
Series of two year rotations — typically every 18-24 months
Actuarial exam support - Up to 175 hours of study time per exam sitting
- Exam study materials, seminars and fees paid on first attempt
- Salary increase upon passing exams
Virtual and on-site professional development opportunities
Opportunities in multiple locations (Fort Wayne, Greensboro, Hartford, Omaha, Philadelphia, and Radnor)
Program requirements
GPA of 3.0 or above
At least one passed SOA exam (not required for internships)
View our brochure
Lincoln's Sales Representative Development Program is designed to accelerate participants' professional development in preparation for a sales career in our Group Protection business.
The program is ideal for candidates who are interested in committing to a 6-12 month sales development program in a regional sales office.
Program highlights
6-12 month program depending on sales experience
Sales training
Ongoing coaching and mentoring from an experienced sales representative
Challenging work
Fixed salary while in program
Program requirements
Rising senior or recent graduate
Sales potential
Exceptional communication and relationship management skills
Willingness to relocate based on business needs
Learn more about — and apply for — our Sales Representative Development Program.
See an overview of the affiliates of Lincoln National Corporation.