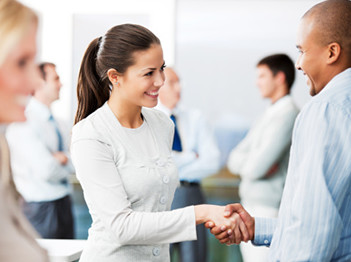 Who We Are
At Lincoln Financial Group, we love what we do. We know that the work we do is meaningful - empowering our clients to take charge of their lives. Lincoln Financial employees are smart, dedicated professionals who respect each other and care deeply about doing right by our clients, our business partners and our colleagues. We thrive in a culture of excellence that embraces diversity, endorses learning and career development, and supports each of us as we make meaningful contributions on the job and in our communities.
History
Lincoln's history is marked by strong organic growth, coupled with a series of sound strategic acquisitions, such as our merger with Jefferson Pilot in 2006. To learn more about the events that shaped who we are today check out our timeline.
1905
Robert Todd Lincoln, Abraham Lincoln's last surviving son, grants permission to use his father's name and likeness for the formation of The Lincoln National Life Insurance Company.
1929 to 1933
During the Great Depression, Lincoln reaches $1 billion of insurance in-force.
Of the 55 insurance companies organized in 1905, only 11 are still in business in 1929.*
* Michael C. Hawfield, Ninety Years and Growing, The Story of Lincoln National, Guilde Press of Indiana, 1995.
1967
Lincoln expands into new markets and introduces its first variable annuity and first retirement plan. Lincoln becomes the tenth largest life insurer with some $16.5 billion in-force.
1983
Lincoln surpasses the milestone of $100 billion of insurance in-force.
1996
Lincoln Life & Annuity Company of New York is established in Syracuse.
2006
Lincoln Financial Group merges with Jefferson Pilot Financial, solidifying the company as one of the largest and most enduring financial services organizations in the United States. Lincoln Life & Annuity of New York Company is merged into the Jefferson Pilot New York affiliate, Jefferson Pilot Life America Insurance Co., but the combined company retains the
Lincoln Life & Annuity Company of New York name.
Today and Tomorrow
Lincoln Financial helps you take charge of your future. You are your own Chief Life Officer®. You are the CEO and CFO of your life. Your mission is to get the most out of life for you and your loved ones — a life approached with passion, where possibilities are embraced and promises are kept. Our job is to help you live this kind of life.
Leadership
We are led by a team of exceptionally talented individuals who are dedicated to ensuring their people are empowered to succeed. Our leaders work in concert with Lincoln Financial's employees to ensure our everyday work drives business objectives and is meaningful to our employees, clients and shareholders.
Learn more about our executive officers and board of directors.
Diversity and Inclusion
Employee Engagement
Our employees at all levels are engaged with Lincoln Financial's diversity and inclusion strategy:
LFG Diversity Council — Our executive and senior leaders ensure that diversity and inclusion remain a business priority by serving on the enterprise Diversity Council.
Multicultural Awareness Committees (MACs) — Individuals can help raise cultural awareness in the workplace through service on MACs, which celebrate the national heritage month proclamations each year.
Workplace Initiatives
We are looking for individuals to join our team who share our appreciation for excellence. We reward our employees for contributing to the growth of the company in ways that matter to them, such as:
Training — Lincoln Financial Group offers virtual, classroom and team-building sessions for diversity and inclusion, including generational differences, gender relations and multicultural dimensions, to name a few.
Mentoring — Our organization believes in cultivating relationships between developing professionals and our senior leaders. Employees encouraged to actively seek mentors within the organization.
Total Rewards — Our employees have access to total rewards that meet their unique work/life needs, including domestic partner benefits, adoption and tuition assistance, wellness programs, and other company-sponsored offerings.
External Engagement
By working with our partners, listening to our clients, and learning from our employees' cultures, backgrounds and experiences, we are better able to serve our customers and deliver superior business results:
Business Resource Groups (BRGs) — Lincoln Financial employees can contribute to our marketplace as members of constituency-based BRGs, which deliver culturally relevant recommendations to ensure customers see themselves in our offerings.
Diverse Professional Organizations — Lincoln's Diversity Partnership Champions are employees empowered to help Lincoln define, pursue and execute recruitment, philanthropic and business opportunities across various constituencies. Learn more about our Diversity Affiliations.
Diversity Awards — Lincoln Financial has been honored that many of the practices we have worked hard to establish, refine and implement have been considered industry best practice. Learn more about our recent Diversity Awards.
Corporate Responsibility
We understand that good corporate citizenship is intrinsic to our success. Our company's spirit of philanthropy led to the establishment of the Lincoln Financial Foundation in 1962, and has inspired a rich tradition of giving ever since. The Foundation focuses on four areas: Education, Human Services, Economic/Workforce Development, and Arts.
Learn more about our commitment to the communities in which we work and live.
Locations
Lincoln has more than 9,000 employees based in several key cities (Atlanta, Concord, Fort Wayne, Greensboro, Hartford, Omaha, Philadelphia, Radnor, and Rolling Meadows) and, to best serve our vast customer base, our sales organizations are positioned throughout the United States.
See an overview of the affiliates of Lincoln National Corporation.